Managing Receive links require an Owner or Admin role as it applies changes in an account. Other users can access the Receive Link Dashboard within the Receive feature but do not have the ability to create links or edit existing ones.
Creating New Links
To create receive links, click the Receive on the Sidebar menu. After clicking it, the Receive feature opens with the default; Receive links tab. In this tab, you can manage the links and create/edit widgets.
Note: If you have accessed the receive feature and browsed over some files, you need to click the Receive links tab to access the dashboard.
In the Receive Links section, click New Link to open the Add Link window. You can now specify and define the link configuration. See Receive Link Configuration.
In the Add Receive Link window, specify the required information and define the preferred link configuration.
After you specify the required information, ensure to click Save to create the new link or save the updated one.
Editing Receive Links
Existing receive links can be modified if needed, you can update its details and/or configuration. To do this, access the Receive Links Dashboard and go to the Receive Links section where the links are listed.
On the list, you will see the existing links, click the Settings icon of the intended link on the right side and select Edit.
This will open the Edit Receive Link window and lets you edit the link details and configuration. In this example, we edited the Title field.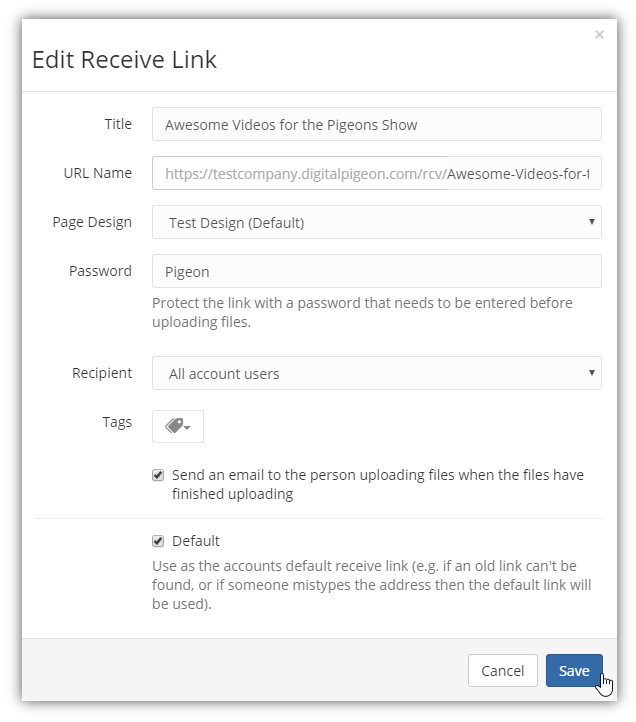 After editing the selected link, click Save to update the changes.