You've just signed up to Digital Pigeon, and we know you're champing at the bit to start sending/receiving some enormous files. But before you do, we recommend configuring your account to send emails through your personal or business mail server.
Why should I do this?
Not only will it make your deliveries look more professional and ensure that your clients always receive files from an email address they recognise, but it will also reduce the likelihood of any files you send being caught in your client's spam filter because the email is coming directly from your mail server instead of ours.
Will it take long?
This whole process should take you no more than five minutes (providing you have the correct details to hand) and you'll only need to do it once (unless you change your email address some time in the future).
Let's get started...
What will I need?
Before you begin, you'll need to know the outgoing mail (SMTP) server settings that your day-to-day email account is using (be it personal or corporate). These specific values are what Digital Pigeon will use to send files using your individual email address.
Here's what you need:
From address

(the email address you want your files to be sent from) e.g. delivery@yourcompany.com

SMTP username

(the login name for said email address on your SMTP server) e.g. delivery@yourcompany.com

SMTP password

(the password for said email address on your SMTP server)

SMTP host/server

(the address of your outgoing mail (SMTP) server) e.g. smtp.yourcompany.com

SMTP port

(the port mail is sent through on said server) e.g. 465

Encryption method

(the encryption method utilised on the server - TLS or SSL)

These values can be obtained from your IT department, Internet Service Provider (ISP) or sometimes from within your mail client - this is especially true if you use an Internet mail service, such as Gmail, and we'll provide specific instructions later in this guide for those of you who do.
Digital Pigeon recommends…
In our experience, Digital Pigeon customers who create a bespoke email address for their deliveries get the best results. Therefore, we recommend that you set up a specific user on your email server that is used only for Digital Pigeon file deliveries.
For example, with an email address like delivery@yourcompany.com, you can differentiate between traffic that Digital Pigeon sends through your server and other business traffic. It also means that any password changes are only necessary if you want to update Digital Pigeon connectivity alone.
Okay, now what?
All you need to do now is input the values you've obtained into the email server settings page in your Digital Pigeon account, which can be found under Manage>Email.
After you have entered all the relevant values and hit 'Save', we will send a test email to you to check that everything is working as it should be.
What exactly will change?
By default, any files you send will be delivered to the recipient(s) using the following details:
from:

Your name <no-reply@digitalpigeon.com>

reply-to:

Your name <youremail@yourcompany.com>

to:

Recipient name <recipientemail@theircompany.com>
After inputting your own settings, all subsequent files you send will use:
from:

Your name <configured_from_address> (e.g. delivery@yourcompany.com)

reply-to:

Your name <youremail@yourcompany.com>

to:

Recipient name <recipientemail@theirdomain.com>
Troubleshooting common connection issues
Upon saving your newly entered values, you may encounter one of the following issues:
Authentication errors:

Check the username or password here for the correct value

Mail connection errors:

Check the server name and port. Please check with your IT administrator or internet service provider to ensure that these details are both correct and externally accessible.

GMail

and

Office365

: see instructions below.

Other errors:

Please contact

help@digitalpigeon.com

if you encounter any other error messages being printed to the screen.
N.B. If you are using an Exchange Server, support will have to be specifically enabled by one of your IT administrators because this is not enabled by default for Exchange and must be enabled manually.
Additional setup resources
Gmail

and

Google Apps

users: see instructions below

Microsoft Office 365:

Look for the information relating to smtp

here

iCloud settings and setup:

For general settings refer to

https://support.apple.com/en-au/HT202304

. We recommend setting up an app-specific password for your account in this case. This will prevent you from needing to change your main iCloud password if you want to change Digital Pigeon's access. For details on how to do this please see:

https://support.apple.com/en-au/HT204397
Specific instructions for Gmail and Google Apps users
To allow the Digital Pigeon app to connect to your Gmail account you'll need to configure Gmail to allow 'less secure apps' to connect to your account. However we strongly recommend that you first enable 2-step verification on your Google account, then configure an 'App password' for Digital Pigeon to use.
First, follow this Google help document to enable 2-step verification on your account. This step isn't mandatory but it mitigates the risks of allowing 'less secure apps' (Microsoft Outlook is included in that list).
Then, visit your App passwords page where you will be asked to sign into your Google account. From here, you can create a dedicated App password so that Digital Pigeon can successfully access your Google account.
Select 'Other (Custom name)' and give the App password a meaningful name, like 'Digital Pigeon', and click the blue Generate button. You will then be given the specific password to use with your Digital Pigeon account.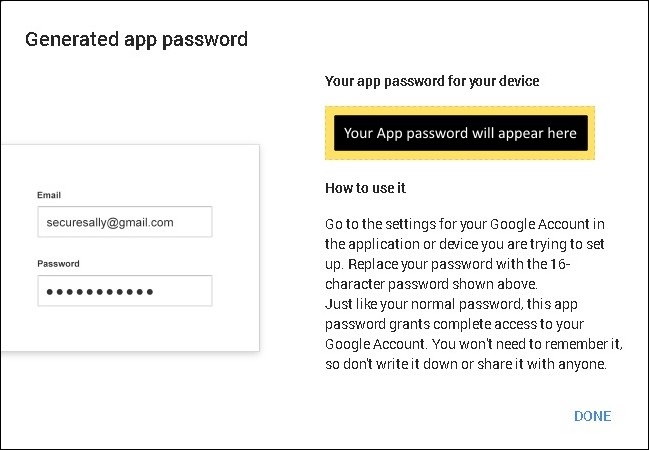 Make a note of this 16-digit App password as this is what you will need to use when you configure your email settings in the Digital Pigeon app
With 2-step verification now successfully configured, and your App password set, login to your Gmail account; click the cog icon in the top right hand corner; and select 'Settings'. Next find the Google's mail server settings, click the 'Forwarding and POP/IMAP' tab and look for a blue hyperlink labelled 'Configuration Instructions'. Look for the 'Outgoing Mail (SMTP) Server' settings (e.g. 'smtp.gmail.com') and note the 'Port for TLS' (e.g. 587).
Back on the Digital Pigeon email server settings screen and enter your Gmail email address in the 'From Address', the 16-digit App password you generated earlier in the 'SMTP Password' field, enter the 'Outgoing Mail (SMTP) Server' as the 'SMTP Host' and 'Port for TLS' (e.g. 587) as the 'SMTP Port', choose 'TLS' as the 'Encryption Method'. If you've entered the details correctly upon clicking save you should receive a message telling you that your settings have been successfully updated.
You'll then receive a subsequent test email to confirm that everything is working as it should be.

Questions? Need help?  Simply email us at help@digitalpigeon.com.